Analysis of Far Cry 6: Pagan Min – CONTROL, the expansion that made me see Ajay Ghale's adventures in Far Cry 4 with different eyes
If something works, why change it? That must have been what Ubisoft must have thought when developing Far Cry 4 after the success of Far Cry 3, especially because of the charismatic villain named Vaas Montenegro. It's not as if Pagan Min was a copy as his personality and motivation were different, but an attempt to replicate the same formula was noted that didn't garner the same public reaction.
And now, due to its DLC in Far Cry 6, it once again stands in that character's shadow by replicating its roguelike formula. But at least it did me good to give Far Cry 4 another chance and redeem myself with the character of Pagan Min, Kyrat's greatest tyrant, as well as a great communicator and golden egomaniac.
Pagan Min knows how to play the Vaas DLC maps
Ubisoft Shanghai decided to use the same style as the Vaas – MADNESS DLC for Far Cry 6, where we controlled the "Madman of Madness". Here, as is more than obvious, the villain to control is Pagan Min in his confused mind. This means that some of Kyrat's most representative locations are recreated in its own way, while we witness an inner monologue about him and of course everything that surrounds characters like Lakshmana, Mohan Gale or Ajay.
It's again a game focused on repetition, because we'll unlock different "mental" levels that will become more difficult as we get "respect" for Pagan Min and thus different improvements for his permanent properties between Pride, Greed, Anger , sloth and envy access . Well, some properties are different from what we had available with Vaas.
The formula is identical, yes… but the route is different. The organization of the map created by Pagan Min's spirit is surprising since obviously it is not accessible starting from a distant (and high) point, until we discover that there is the possibility of unlocking a few shelters, that make it easier for us to move and that they will be added to the portals that Vaas already had (and which of course are repeated here).
In terms of content, it surpasses Vaas, as there is a greater variety of secondary missions (especially the "Illusions"), although some of them take only a breath or are extremely easy. At least this attempt to delve into the life of Pagan Min is appreciated so that we can empathize with him better.
Logically, the game takes licenses at certain times by not following the logical pattern of Far Cry usage. For example, when we saw giant sharks flying with Vaas, here we have a region in a plane perpendicular to the ground. And all to dive into the radio facet of Pagan Min, who we've heard on many occasions while riding in the car with Ajay Ghale. One of his great characters.
Speaking from personal experience, it was one of the few things I remembered about Pagan himself at this point, having enjoyed just enough Far Cry 4 at the time and not feeling motivated to complete his story to this day , motivated by the need to refresh and fill in the blanks I needed to know about Pagan Min himself. I give credit to the DLC for that and because, despite the continuity in many of its mechanics, Far Cry 4 was a remarkable adventure that made its content overwhelm the bucket load.
Pagan Min's crazy roguelike, here without control
Pagan Min – CONTROL obviously focuses on a compressed experience in a small space and with a limited number of goals. But of course we are more vulnerable: when we die, we lose almost everything… except "respect". And start again. So keep coming as we unlock Respect upgrades to make Pagan Min's Hide Bugs quest more accessible…
If you've played the Vaas DLC, you won't be surprised at all, apart from the beauty of some locations that take advantage of Far Cry 6's next-gen improvements. A little more pleasant in the long run are the walks or teleportations to hotspots. Although he sins again by not motivating enough to get all the weapons, using two or three and the passive improvements that we get perfectly.
As a side note, like the crazy Vaas fork, we'll also have voices in Spanish here. Because we mustn't forget that Far Cry 6 has been localized into Latin Spanish to maintain the realism of its Yara region.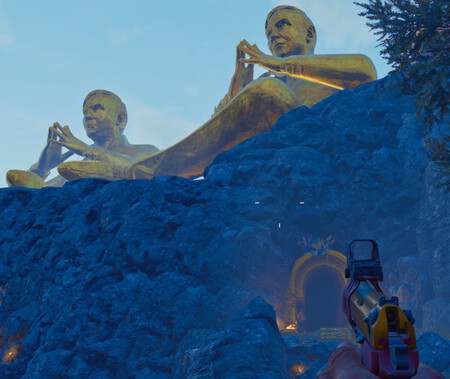 Then again, I don't know if I've had better luck with Vaas, but I've endured tougher times with Pagan Min and have been killed more than once. At Ajay's father without going any further one of his henchmen went mad with the mortar after burning down some houses and I was hardly warned about every bomber. Crazy. And it goes without saying that on higher mental levels, once the main storyline is completed, there will be more enemies and they will be tougher, as was the case with Vaas.
And what happens when night falls? Here Ubisoft hasn't gone for anything original, replicating those explosive spirits we suffered with Vaas… which aren't even nearly as aggressive as Dying Light's creatures, it also has to be said, wow.
If you liked the character of Pagan Min in Far Cry 4 you will have many reasons to satisfy your curiosity for his brightest moments, but at the same time you will see that these kinds of spin-offs are a bit lame to their roguelike- Structure. . Because both Vaas and Pagan Min earn a lot more.
Far Cry 6 Season Pass
RRP in Microsoft Store €39.99 RRP in PlayStation Store €39.99 RRP in Epic Store €39.99
VidaExtra's opinion
In short, Far Cry 6's Pagan Min – CONTROL DLC has the same pros and cons as Vaas's, so it depends on which villain you liked the most at the time to enjoy it more or less. But what's undeniable is that they leave a better taste in the mouth than the uninspired Hours of Darkness, Lost on Mars and Undead Zombies from the previous Far Cry 5.
Pay Min: CONTROL
Platforms PS5 (verified version), Xbox Series, PS4, Xbox One, Epic Store, Ubisoft Connect, Google Stadia, and Amazon Luna Multiplayer Yes, online (two players) Developer Ubisoft Shanghai Company Ubisoft Released January 11, 2022
The best
Control Pagan Min and be in his thoughts
The gradual difficulty of each mental plane
Relive various iconic scenes from Far Cry 4
worst
Doesn't use Pagan Min to its full potential
More goals are missing
Alan Gross
Alan is the main writer for our website. He's a very professional writer that fully dedicates himself to finding and writing about new topics all the time. Alan does add an amazing experience to the blog and news articles making sure most of the readers loves them!
We Welcome Your Comments
Please keep in mind that comments posted here may not represent the opinions of PetPartners or the Cat Fanciers' Association. Always consult with a veterinarian about your pet's health needs.
About Us
The Purring Post is a service of PetPartners, Inc. a founding member of the Association of American Pet Owners. For seven years, PetPartners, Inc. has been the exclusive provider of the CFA Pet Healthcare Plan. All cats, pedigreed or domestic, registered or not, are welcome in the CFA Pet Healthcare Plan. We offer a wide range of insurance plans for all budgets.